So as some of you know I'm a guy that takes his home-lab and network to the extreme. I have a little bit of everything, HP, Dell, Netgear, Sonicwall, but since I'm a Cisco boy now my core is Cisco. Since my goal in the coming year is CCNP I figured mind as well start building out the Cisco lab. But my goal is also VCDX and MCSE, so I figure make a home-lab that has everything!
As many know in the VMware world VMware uses CDP to get very useful information on physical switches for the VMware engineer. Now I use Dell N2048's and N3024/48's at work and love them because they are Force10 switches at heart and Force10's have CDP. But I digress I choose Cisco because I love the 3750G's and their performance over a etherchannel (or Port-Channel to none Cisco folks) plus it goes hand-n-hand with my VMware cluster.
My VMware cluster has also grown recently with an additional Dell R610 server, it's a older model probably about 2012, but like the other two R610's they all are quad cores so 16 cores per server with each server have 32 GB's of RAM and each server has 12 gigabit nics is plenty for my N+2 cluster with a dedicated HP Procurve 2910al iSCSI/vMotion switch for a QNAP 8TB NAS. My plan is to use the Cisco home-lab backbone to mimic a production environment as close as possible without breaking the bank. Thanks to VMUG and vExpert VMware licensing is not a problem.
Many people ask me how I'm always on-top of things, it's because I lab, lab, lab, lab.
Last month I finally got tired or re-mounting stuff all the time and I got a 16U expansion rack. I mounted the full lab now, the two Cisco 2821's for VRRP-based GLBP with my very own Frame Relay 'cloud' switch to two other networks. Each of these networks have a solo Raspberry Pi 2 with Ubuntu Server 14.04 on them and then 'remotely' access the 'corporate' VMware cloud in the Cisco 3750G core network. Basically I'm mimicking 3 separate networks in the home-lab in a hub-n-spoke topology.
People tell me to specialize all the time, but me I like specializing in VMware, Networking, Storage, and Server Administration. What better place to do it all than at home, if I blow it up at home who will scream at me? – better for me to do it at home and break it and then bring it to work and have it work the 1st time. Then they think your a genius, but if only they knew….
Here a flowchart of the Cisco part of the home-lab: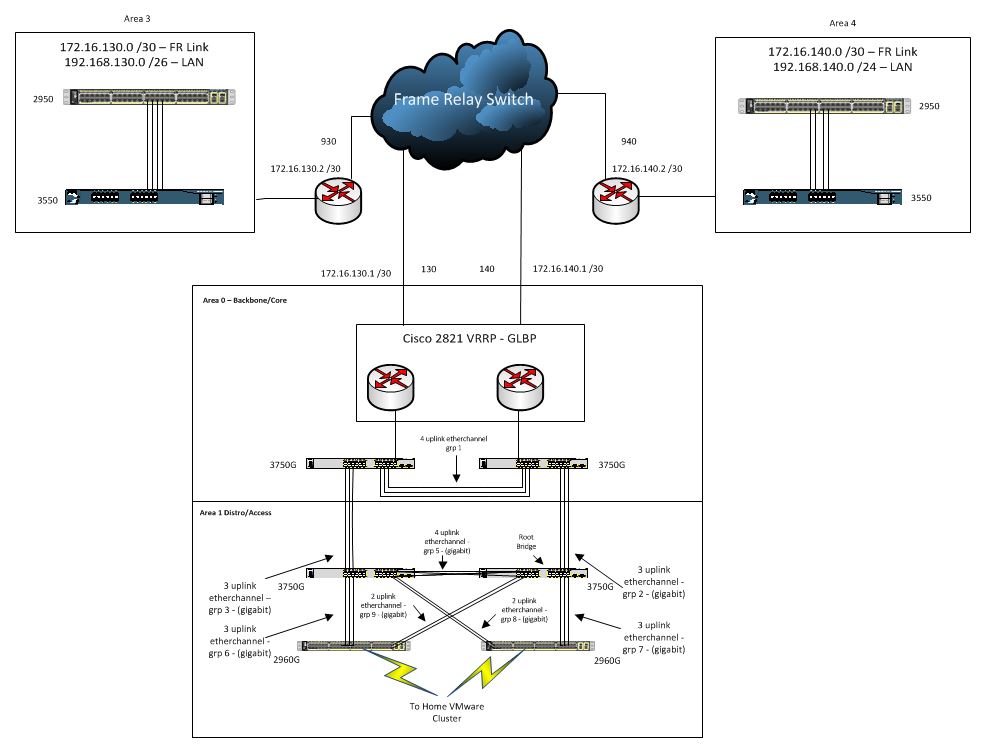 Here are updated pictures of the whole rack: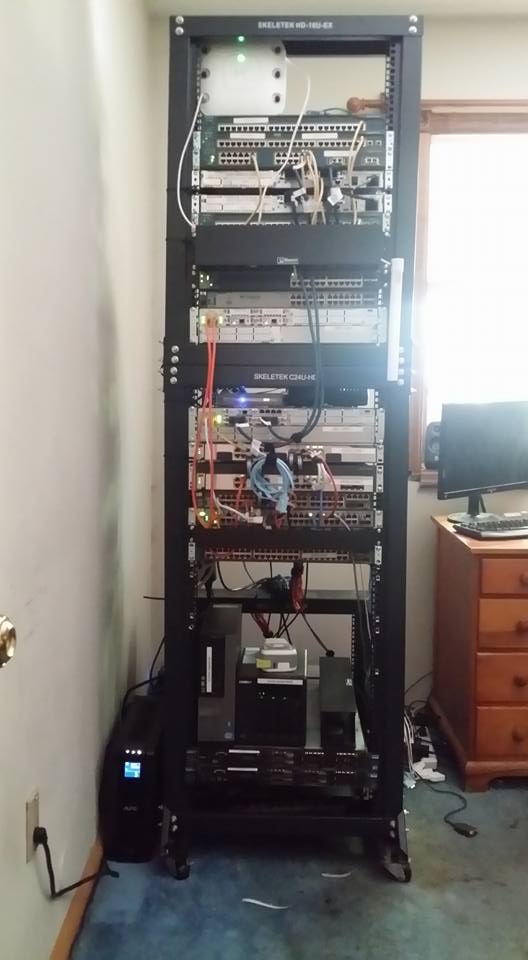 Really recent additions, the Frame Relay 'cloud', the 2600 on the bottom is the Frame Relay 'cloud' switch for the other two 2600's: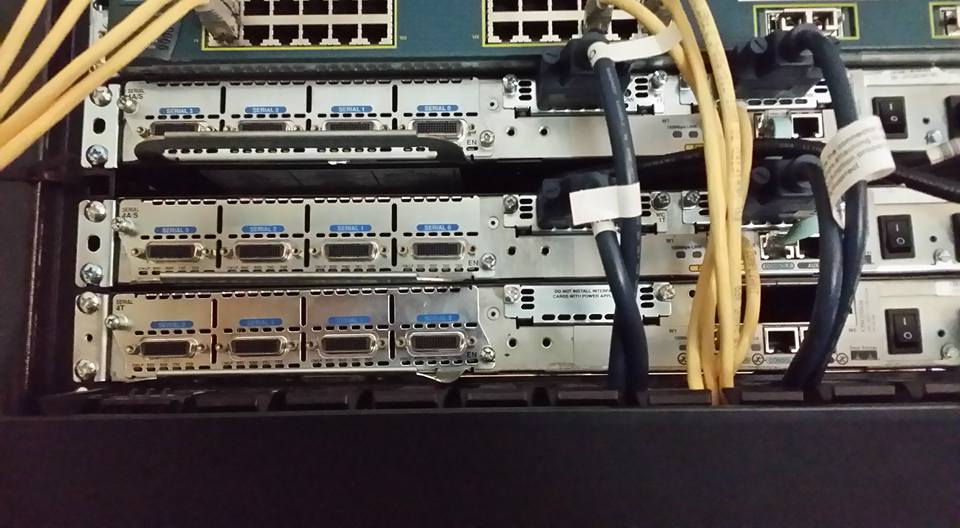 Recently added, (2) 2690G switchesfor access layer of Area 1, (Cable management hides 4 cable Etherchanel uplinks):